Once we have settled the terms, we are going to use, let us dive deeper into the topic.
When talking about Intercultural communication one shall always mention the so-called the cultural iceberg. The model was developed by the anthropologist Edward Hall and represents the "visible" and "invisible" elements of the culture. In the picture below, you can see some examples of those elements.
Have a look at the picture and reflect on how would you describe your iceberg and what would be your attitude to someone having a different iceberg, especially when it comes to things from the very bottom of the picture.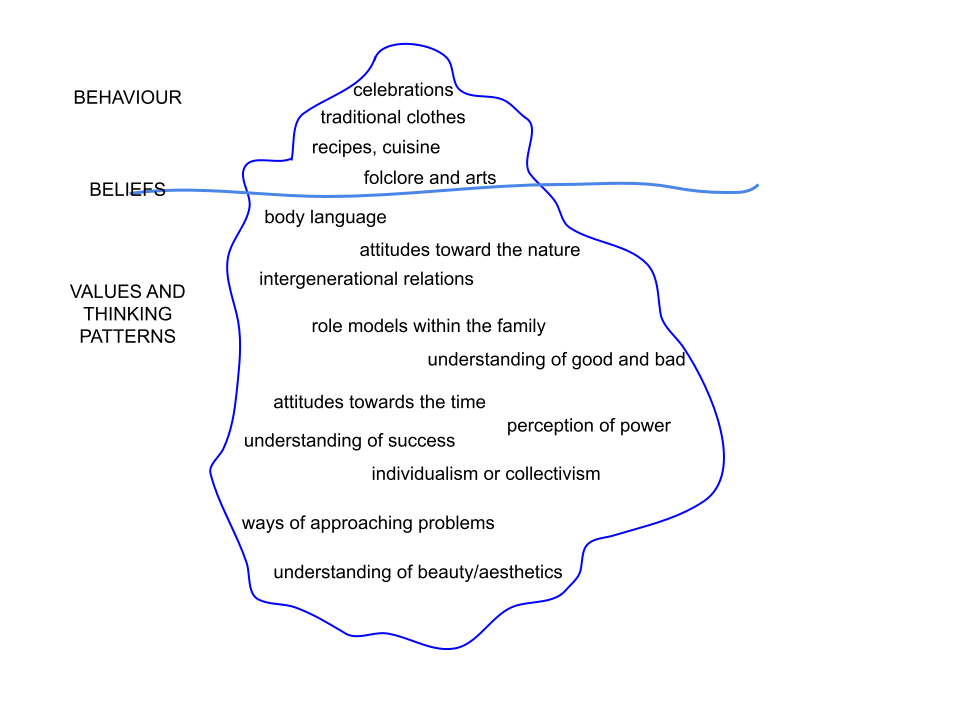 Actually, in the intercultural communication, usually the conflicts occur, when the bottoms of two icebergs crash in each other. However, having a positive attitude, you can avoid the crash of your iceberg with the others. So, do not forget – be open, smiling and kind to the person you communicate with, and they are very likely to do the same in return.
"It all sounds cool but how to connect this with the real life?" you might ask. Well the partners organisations involved in the project defined the best tips they would give to the young people they work with. Check them out and find the one you like the most:
Never underestimate the opportunities for "Internationalisation at home" – Before leaving to your dream destination, you might have plenty of opportunities to meet this culture at your home. For instance, the local university that hosts foreign students might look for volunteers to assist them in their first days upon arrival. Or a local NGO that welcomes volunteers from abroad might look for buddies/mentors, who can help them during their stay. By joining such initiatives, you would definitely have the chance to gain rich intercultural experience and make friends from all over the world. And of course, they would be very eager to return you the favour, once you become a new-comer in their own country.
Before leaving abroad, it is useful to prepare for this experience through films, books, documentaries and research, possibly in the language spoken in the country you plan to move to.
Join student/expert worker/migrant Facebook groups and get to know and interact with some of them before you move so that by the time you arrive you would have made connections that you can rely on for information, interactions and advice.
Attend to language courses – it is not only a nice way to meet other foreigners, but it is also a good way to get to know something about the local culture and language. And who knows where that might take you, in the long run, it can be another way to meet more local people. Being able to say a couple of phrases or sentences is always far better than not being able to say anything at all. There is no better time to learn a language than when you have a chance to use it in your daily life.
Do not be afraid to ask – Ask people questions about their cultures, customs, and views. People, for the most part, do not mind being asked questions and are usually pleasantly surprised when others show interest in their cultures. Many of us might be shy to ask questions, or are taught that it might look impolite, but if you are thoughtful, asking questions can help you learn about people of different cultures and help build relationships.
Connect more with the locals – A tourist trip gives you the opportunity to get in touch with new worlds but if you really want to know a culture, better find ways to work, study or volunteer abroad and do a full immersion into the local culture.
Prepare not only language wise, but mentally, too: try to understand how your beliefs and values might mediate your approach and understanding of cultural differences. Try to identify the judgement and stereotypes you live with and keep them in mind every time you shall handle unusual situations.
At the beginning of your experience abroad, try making a mind map depicting your aims and objectives, desires, needs, expectations, and fears. In the middle of a sheet of paper try to illustrate an image of what is on your mind (self), what things are to your mind (perspective and opinion), what you should be mindful about (aims and objectives), what you mind (needs and fears), and what you don't (strengths and ability to contribute). This exercise can assist you to explore, define, navigate, and evaluate you journey in their new cultural surroundings.
Record your experience (and make sure you have something to record during your experience) – you might choose to keep a diary, which only you will ever read, start a blog or create a special album on your profile of the social media, where you share photos of your your new home, the new food you try, events, different new activities you try, the new places you visit (everything that happen during your experience), make a 1-year-in-1-minute video. You might make a combination of all mentioned above or come up with another idea. The format does not really matter, but the important thing is to collect all those little memories. Having all this material for reflection, in the end you will literally see how much you have learned and changed yourself and your perception of the world.
Look for local events and participate – A look in the local press, social media groups, and community centers is a sure way to find local events. Participating in such occasions is an opportunity to get to know your new surroundings and meet local people. In this way, you may end up in intriguing parts of your area where you wouldn't go otherwise. Also, this can be an informal way to network and learn about local customs and social norms in practice
Do not be afraid to be proactive – besides joining the local activities and celebrations in the new country, you might want to organize your own ones. You have a special day (your birthday or your national holiday)? Cook your favourite meal from your home and share it with your new friends. They would really appreciate it and will eagerly share their traditions with you, too.
So, which tip did you like the most and will try during your next experience abroad? Think about it, make sure you save this idea somewhere and do not forget using it 😉
Every single day, whether we like it or not, the world we live in is becoming more globalized and connected. People, especially youth need to leave their usual comfort zone and visit foreign places for studying, working and travelling.
Many companies open offices on new places or welcome international professionals to their teams. Intercultural communication skills can help us to become more demanded professionals and expand our career opportunities on one hand. On the other hand, even if we do not have ambitions to work in large international organisations, they will be helpful in different other life situations, because, the societies we live in get very intercultural, thanks to the active mobility of people.
So, the sooner we realise the importance of the intercultural communication skills and start developing them ourselves, the better it will be for us.
We do hope you liked the information presented in this guide. In case you are "hungry for more", we recommend you to check out those resources and links, which will help you expand your knowledge in the field of Intercultural communication:
BIC Project Partnership. 2020. Standpoints on Young People Living Abroad. Retrieved May 23, 2021, from https://project-bic.vum.bg/standpoints-of-young-people-on-living-abroad/
Countries and their cultures: Malta. Retrieved May 17, 2021, from https://www.everyculture.com/Ma-Ni/Malta.html#ixzz6rF05acf8
Countries and their cultures: Malta. Retrieved May 17, 2021, from https://www.everyculture.com/Ma-Ni/Malta.html#ixzz6rF18cd6N
Cultural Atlas: Maltese Culture. Retrieved May 17, 2021, from https://culturalatlas.sbs.com.au/maltese-culture/maltese-culture-communication#maltese-culture-communication
Cultural Atlas: Macedonian Culture. Retrieved May 25, 2021, from https://culturalatlas.sbs.com.au/macedonian-culture/macedonian-culture-do-s-and-don-ts#macedonian-culture-do-s-and-don-ts
Culture Crossing Guide: Macedonia. Retrieved May 26, 2021, from http://guide.culturecrossing.net/basics_business_student_details.php?Id=14&CID=122
EF Italia. (2017) 10 suggerimenti per fare amicizia mentre si è in viaggio. Retrieved May 20, 2021, from https://www.ef-italia.it/blog/language/10-suggerimenti-per-fare-amicizia-mentre-si-e-in-viaggio/
Evason, N. (2019). Greek culture – references. Retrieved May 06, 2021, from https://culturalatlas.sbs.com.au/greek-culture/greek-culture-references
com. (n.d.). Traditions in Greece & Greek Islands: GREEKA. Retrieved May 06, 2021, from https://www.greeka.com/greece-culture/traditions/
Green Planner Magazine. (2020). "3 elementi culturali tipici delle persone di origine italiana". Retrieved May 20, 2021, from https://www.greenplanner.it/2020/11/06/cultura-italiana-elementi-peculiari/ " https://www.greenplanner.it/2020/11/06/cultura-italiana-elementi-peculiari/
Hofstede G. et al. "Exploring Culture". Sofia, "Klasika I stil" Publishing house. (2003)
Kendrick Hulse. (2019). The Importance of Intercultural Communication and Understanding. Retrieved May 20, 2021, from https://expatinformer.com/importance-of-intercultural-communication/#:~:text=Many%20scholars%20advocate%20for%20the,have%20any%20experience%20with%20themselves
Minkov, M. "What Makes Us Different and Similar". Veliko Tarnovo. Abagar AG. (2007)
SP Formacione. (2017). Intelligenza culturale – Entrare in punta di piedi nella cultura altrui. Retrieved May 20, 2021, from https://spformazione.it/intelligenza-culturale/
University of people. (n.d.). What Is Intercultural Communication: Learning New Styles. Retrieved May 20, 2021, from https://www.uopeople.edu/blog/what-is-intercultural-communication/
The project "Building Intercultural Competences: Sharing Good Practices (BIC)" aims to raise awareness among young people about the importance of intercultural communication and mutual understanding by exploring and sharing good practices and innovative methods and strategies of dealing with the challenges in multicultural environments for youth organisations and overcoming cultural shock, stereotyping, prejudices, discrimination and stigmatisation through intercultural communication and dialogue among young people.
| | |
| --- | --- |
| | Varna University of Management (Bulgaria) |
| | Sfera International (North Macedonia) |
| | Inter Alia (Greece) |
| | Demostene (Italy) |
| | Check-IN (Portugal) |
| | Cross Culture International Foundation (CCIF Malta) |
The European Commission support for the production of this publication does not constitute an endorsement of the contents which reflects the views only of the authors, and the Commission cannot be held responsible for any use which may be made of the information contained therein.