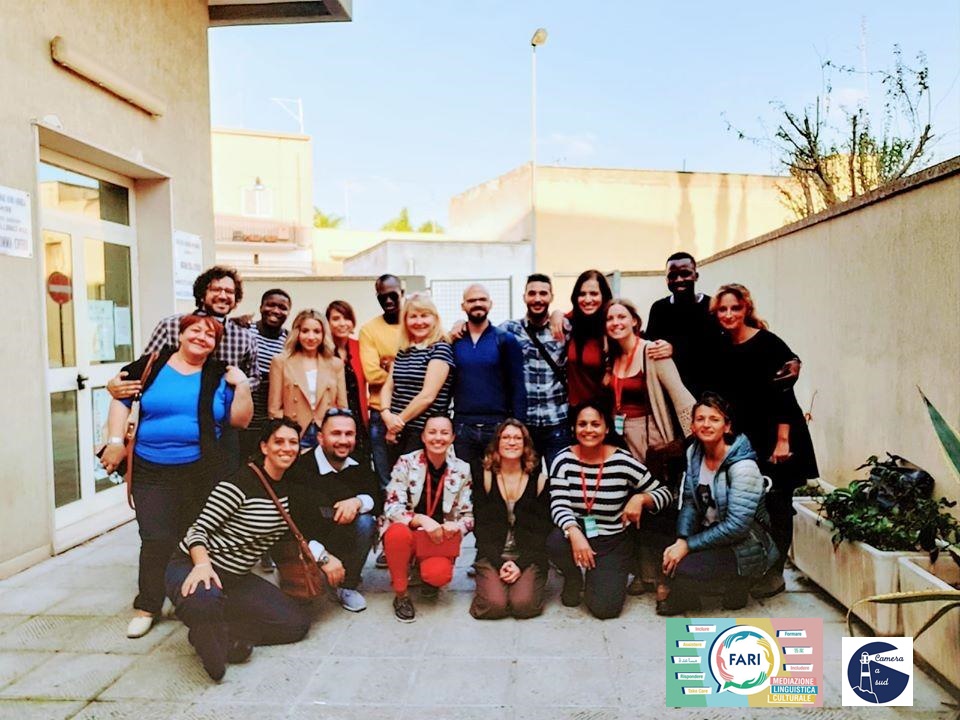 Name of the organization: Camera a Sus APS
Website: www.cameraasudaps.it
Brief description of the organization
Camera a Sud is a Lecce based and non-governmental organization dealing with migrants participation in local society, protection and promotion of human rights, cross-cultural relations and social inclusion. Camera a Sud has both volunteers and paid employees who provide a wide range of cultural, cross-cultural and multimedia activities and events as well as educational workshops and linguistic mediation services.
Another important part of their work is offering support to local entities and associations through social projection and, additionally, intercultural mediation and interpreting services for both asylum seekers and refugees, Sheltering Centres and three Health Counties Districts of Apulia Region (Lecce, Brindisi, Taranto) thanks to the P.O.N funded FARI project (Train, Assist, Rehabilitate and Integrate). Furthermore, in their Information Desk Art 3, Camera a Sud offers refugees practical support during their asylum procedure and their integration in the Italian society and official training courses for both mediators and migrants.
Problem addressed by the good practice
The FARI project deals with the inequitable access to healthcare by refugees, asylum seekers and migrants.
Target groups
The target group includes, on the one hand, refugees and asylum seekers, social workers, healthcare professionals, on the other.
Summary of the good practice
P.O.N funded FARI project (Train, Assist, Respond and Integrate) has a duration of 21 months. The main activities are Cross-cultural and Linguistic Mediation Service, providing services in 20 languages, delivered by 15 mediators, in 3 different Health Counties Districts of Apulia Region (Lecce, Brindisi, Taranto), Training of Healthcare professionals and social workers, creation of an application for migrants related to the local healthcare system, Multilingual Information Campaign on the COVID-19 emergency, activation of a COVID-19 Regional multilingual information hotline.
Camera a Sud has signed agreements and protocols with many local and national entities related to migrants and refugees such as Taranto, Lecce and Brindis Counties Health Authorities, CPIA of Lecce and Brindisi, Cooperativa Emmanuel, GUS ONG, Cooperativa Arcobaleno, etc. The main resources for the implementation of the FARI project are 15 cultural mediators, conference speakers, 1 psychologist, 1 project coordinator, 1 communication manager, local stakeholders.
Evaluation
The added value of this initiative can be found in the improvement of refugees, migrants and asylum seekers health literacy, empowerment for migrants communities, Introduction of a cross-cultural systemic mediation approach among healthcare professionals, improvement of the healthcare system in a more migrant sensitive way through the training of healthcare professionals.
Recommendations
The project has had a significant impact and added value on the local healthcare system and it has been later adapted to better support foreign communities during the COVID-19 emergency situation. Flexibility, adaptation and resilience are the keys. It could be both adopted in other countries and cultural contexts and extended to other fields, in which minorities, migrants, refugees and asylum seekers have inequitable access to public administration and education.
Resources
Some of the educational videos used in the FARI project can be found on the organization's YouTube channel.